< Back
Doug Ayres
Golf Course Superintendent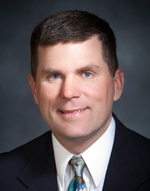 Doug's career in turf grass management started by mowing lawns in his home town of Cincinnati, Ohio. After obtaining a Golf Course Management degree from Horry Georgetown Tech in Myrtle Beach, South Carolina and completing an internship at Keystone Ranch Golf Course in Colorado, Doug and his wife Melissa left the east coast and headed west. The next two years at Sierra Nevada Golf Ranch in Genoa, Nevada was filled with construction, compiling a maintenance team from scratch and complete grown in of the 18 hole facility. The opportunity to work at Monterey Peninsula Country Club for veteran superintendent and mentor Bob Zoller was offered and accepted in 1999. The first three years maintaining the Dunes course instilled in Doug the level of detail needed to produce a world class facility. The following three years provided the opportunity for him to display his management, negotiating and construction skills during the 10 million dollar Michael Strantz complete remodel of the Shore course along the famous 17 Mile Drive in Pebble Beach, California.

In 2005, Doug joined the Corral de Tierra Country Club team and began improving the infrastructure and playability of the golf course. Doug and his staff have completed numerous major projects including building bridges, installing over 30 miles of drainage, designing and renovating all 90 sand bunkers, building the driving range and adding a short game facility. Constructing greens, adding tees and building a waterfall were small projects compared to the renovation and enlarging of the 3 acre south pond in 2010. Doug's dedication, powerful work ethic and relentless pursuit of excellence has not gone unnoticed by his peers and industry leaders. In 2009, he was one of the finalists for the Golf Course Superintendent of the Year award.

Even though Doug thought his time on the Monterey Peninsula would be brief, 13 years and two children (Amelia 9 and Ryan 7) later he is infinitely thankful to be working on such a majestic and beautiful course.